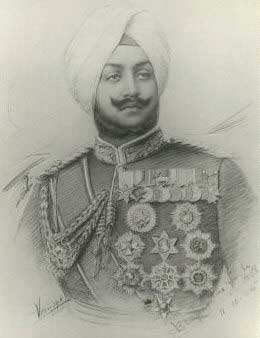 Bhupinder Singh Bhupinder Singh, born 12 October 1891 in Patiala, India –23 March 1938, Patiala) was the ruling Maharaja of the princely state of Patiala from 1900 to 1938. He is best known for his extravagance, and for being a cricketer. He was born at the Moti Bagh Palace in Patiala, and educated at Aitchison College. At age the age of 9 he succeeded as maharaja of Patiala state upon death of his father, Maharaja Rajinder Singh, on 9 November 1900. A Council of Regency ruled in his name until he took partial powers shortly before his 18th birthday on 1 October 1909, and was invested with full powers by the Viceroy of India, the 4th Earl of Minto, on 3 November 1910. He represented India at the League of Nations in 1925, and was chancellor of the Indian Chamber of Princes for 10 years between 1926 and 1938, also being a representative at the Round Table Conference.
He was well known for the construction of buildings with bold architectural designs in Patiala, including Kali Temple, Patiala, and Chail View Palace in the summer retreat of Kandaghat. He was known to have a collection of Rolls Royce cars. He was also known for an exceptional collection of medals, believed to be the world's largest at the time. According to legend, Maharaja Bhupinder Singh would be driven in a motorcade of 20 Rolls Royce cars. He also got a unique monorail system built in Patiala known as Patiala State Monorail Trainways. He was the captain of the Indian cricket team that visited England in 1911, and played in 27 first-class cricket matches between 1915 and 1937. He also donated the trophy for the Ranji Trophy, which is a domestic first-class cricket championship in India.
He was succeeded by his son Yadavindra Singh, who was the last Maharaja of Patiala after Patiala was incorporated into the new India on independence. His grandson Amarinder Singh became a politician and has served as the Chief Minister of Punjab from 2002-2007. Bhupinder passed away on 28 March 1938.